Mechanical gears found in nature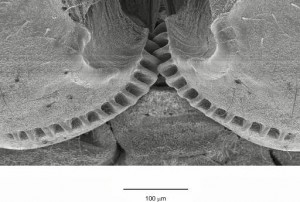 For the first time, a gear mechanism has been discovered in nature – as opposed to a non-functioning gear patterns like those on the 'cog wheel turtle' or the 'wheel bug'.
The cogs are on the rear legs of the juvenile 'issus' – a common insect – and gear them together to synchronise their movement when the animal jumps.
Scientists at the University of Cambridge found the mechanism, and claim it is to allow it to jump straight without spinning in the air – jumping is the way young issus gets around most of the time.
They have published a paper on issus and its gears in Science.
"This precise synchronisation would be impossible to achieve through a nervous system, as neural impulses would take far too long for the extraordinarily tight coordination required," said lead author Professor Malcolm Burrows, from the university's Department of Zoology. "By developing mechanical gears, the issus can just send nerve signals to its muscles to produce roughly the same amount of force – then if one leg starts to propel the jump the gears will interlock, creating absolute synchronicity."
The quadrant has a 200µm radius and 10 to 12 teeth.
"Each tooth has a rounded corner at the point it connects to the gear strip, a feature identical to man-made gears, essentially a shock-absorbing mechanism to stop teeth from shearing off," said the University of Bristol, to where paper co-author Gregory Smith has moved.
"We usually think of gears as something that we see in human designed machinery, but we've found that that is only because we didn't look hard enough," said Sutton.
Gears are only found in the juvenile ('nymph') stages, and are lost in the final transition to adulthood during a moult – when they cast off rigid skin in order to grow.
"It's not yet known why the issus loses its hind-leg gears on reaching adulthood. The scientists point out that a problem with any gear system is that if one tooth on the gear breaks, the effectiveness of the whole mechanism is damaged. While gear-teeth breakage in nymphs could be repaired in the next moult, any damage in adulthood remains permanent," said Bristol. "It may also be down to the larger size of adults and consequently their 'trochantera'­ [insect equivalent of thigh bones]. The bigger adult trochantera might allow them to can create enough friction to power the enormous leaps from leaf to leaf without the need for intermeshing gear teeth to drive it, say the scientists."