Samples in the post: Gaggione narrow beams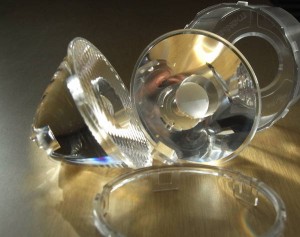 Those nice people at Gaggione have sent some of their lenses for evaluation.
They are narrow beam non-mixing types, and the idea is to try them with Cree XP-E2 LEDs (1x1mm die) to see what the beams look like.
The lenses are: LLC15E, LLC49R, and a LLC49E.
On reflection, I think the LLC49E is a mixing optic because it is designed to work with four-die packages, so it beam angle will probably be less dependent on die size.
Gaggione interest was sparked by the excellent beam produced by the Cree-Gaggione combination sent to to me from Cree's labs.
It would have been nice to try them with XP-C LEDs (0.7×0.7mm 0,5mm2 die) to see how narrow the beam can be, but it doesn't look like Cree is developing these further so they are left a few years back in efficiency.
Now all that is needed, is time to get the lathe out and turn some housings – so no one hold their breath.
Holders were provided, but they are not the types that mount well over hex boards, and the Wonderland Workshop does not have surface mount capability to make custom metal-cored pcbs.
2 Comments