Thoughts on another EE blog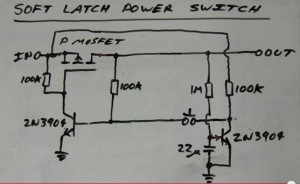 Having got into a browsing chain on EEVblog, I came across EEVblog 262 'World's Simplest Soft Latching Power Switch Circuit' (right), where David Jones makes a simple latching power supply switch operated by a single push button.
He talks it through in an excellent thorough and educational way.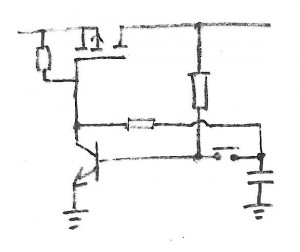 Pondering this, I wonder if one more transistor could be removed with the following circuit (left).
Although this one might:
Not work at all
Need a noticable gap between operations
Need a small resistor in series with the push button to save its contacts from being eroded
There are a whole bunch of mono, bi and n-stables on this blog and they were mostly hyperlinked until some IT changes at EW disconnected them all. As I can't face putting all the links back in the right places, here is a list instead.
A 74HC74 hysteresis mystery
Two leds for one
Hysteresis mystery solved, probably
And now the pcb
Simple circuit selects LEDs? – a tri-stable
More push button bistables
A 74HC4060 monostable?
Thoughts on another EEVblog – a power on-off bistable

Tags:
power supply
,
push button
Related Tech News
I am a fan of high efficiency, and therefore I am a fan of wired…more »

The down-side of being busy and spending ages in the…more »

Following my trials and tribulations with seemingly-simple push button bistables,…more »

I think I have got to the bottom of the…more »
4 Comments
Share your knowledge - Leave a comment