Android Applications in Focus #13 – Chirp uses sound to transmit documents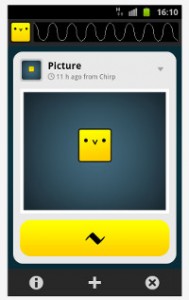 Here's an interesting one. A free app that transmits documents via sound – push a button and anyone in listening range (running Chirp) can hear the sound from your built-in speaker and receive your picture or links!
It has been available on iOS for a while, writes makeusof.com, but is now on Android.
A few seconds of audio, apparently, is enough to transmit data files, and any device running chirp can decode it. This is a lot easier, they claim, than the pairing procedure of Bluetooth.
On the FAQ they write:
Why not just use Bluetooth, email, or some IM client?
Chirp is designed for quick and easy sharing between people in the same place. Unlike Bluetooth, Chirp doesn't require you to pair devices. Unlike email, you don't need to type in anyone's address. Unlike instant messaging clients, you don't have to add recipients from a buddy list. And so on. To share stuff, you don't need to be friends on Facebook, or to follow each other on Twitter, or be connected on LinkedIn. None of that is needed. Just press the big yellow Chirp button, and anyone running the app can 'hear' the data.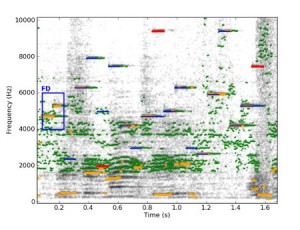 Read about it on Google Play and you can also read a brief summary of the Chirp technology. For example, read about the audio protocol:
The Chirp audio protocol was designed to be friendly. That is: simple to implement.
It has an alphabet of 32 characters [0-9, a-v] mapped to 32 pitches a semitone apart.
0 = 1760hz
1 = 1864hz
…
v =10.5khz
An entire chirp is a sequence of 20 puretones of 87.2ms each. The first 2 tones are a common 'frontdoor' pair – hj – to indicate to a device that the following tones are a chirp shortcode; the next 10 tones represent the 10-character payload. The final 8 tones are Reed-Solomon error correction characters.
[FD] [SHORTCODE] [ERROR-C]
With 5-bits per character and 10 characters per chirp, our total address space is 50 bits.
Error correction means that Chirp transmissions are resilient to noise. A code can be reconstituted when over 25% of it is missing or misheard.
The app requires Android 2.3.3+ and a phone with 1Ghz dual core processors.
As one of the commenters notes, this is not a new concept. People who remember computing in the 1980s may remember commodore and its cassette tapes.
Previous Android Applications in Focus: