DrivePlus brings telematics to Android smartphones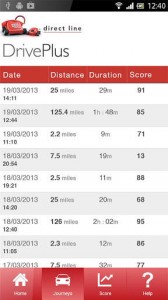 Could this be part of a new trend of companies using your smartphone to calculate information about yourself? Direct Line has launched DrivePlus, a telematics product that comes in the form of an installed box or smartphone app.
Basically, the app claims to review your driving style and if you qualify as a "safe driver" there are some discounts available on the company's car insurance premium. How does it work?
Apparently, the app uses GPS "to understand how you drive, looking at things such as acceleration, braking and cornering". It will give you a score after every journey and, when you've recorded 200 miles, the app will show your overall score and give you details of any discount you've been awarded.
You can read the DrivePlus FAQ and Terms & Conditions.
The DrivePlus app can be downloaded from www.Directline.com/Telematics and Google Play. It requires Android 2.2 and up.
It must be a good thing, surely, if it encourages responsible driving and rewards good behaviour?

Tags:
Google
Related Tech News
Share your knowledge - Leave a comment