The latest Android news, developments, comments and apps involving Google's embedded mobile platform that now features in smartphones, tablets, set-top boxes, cameras, watches and some other rather unexpected places.
Android Wear apps wearing thin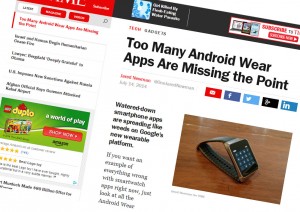 We all have an opinion on wearable tech, but Jared Newman's piece on Time.com had me nodding in agreement – Too Many Android Wear Apps Are Missing the Point
It may not be a novel viewpoint but it needs saying – in terms of apps on a watch, there's no point trying to do just the same thing, but on a smaller screen.
For smartwatches to make sense, they need to go beyond what a phone can do on its own. That idea seems lost on developers who are creating weak imitations of existing smartwatch apps, including games, drawing apps, flashlights and calendars.
He goes on to consider three basic design questions that apps need to consider…

Tags:
Android Wear
,
apps
,
Jared Newman
Related Tech News
Share your knowledge - Leave a comment