The latest Android news, developments, comments and apps involving Google's embedded mobile platform that now features in smartphones, tablets, set-top boxes, cameras, watches and some other rather unexpected places.
An Android-focused 4G LTE chipset from Broadcom – the M320 LTE SoC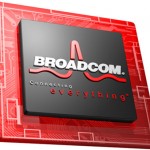 Ahead of Mobile World Congress 2014, which starts later this month, there is news of an Android-focused 4G LTE chipset from Broadcom, writes Richard Wilson. It's the Broadcom M320 LTE SoC (system on chip).
The big focus for chip suppliers seems to be the lower end 4G LTE smartphones, in the £130-£180 price range. Just as the £110 Moto G from Motorola, now owned by Lenovo, is the 'first' low end 3G smartphone.
But sub-£200 LTE smartphones will be a tough one to crack. Broadcom's play is a LTE platform which is interchangeable between a dual-core M320 or an upcoming quad-core M340 system-on-chip (SoC) devices.
"With complete design reuse between dual-core and quad-core basebands, OEMs can develop multiple devices with the same platform design while lowering engineering costs and accelerating time to market," said Broadcom.
This is a big push by Broadcom to take a strong position in the affordable LTE smartphone market. The silicon is carrier ready, supporting Category 4 (Cat 4) speeds in FDD-LTE and TD-LTE modes. Cat 4 150Mbit/s LTE speeds in FDD-LTE and TD-LTE modes and up to 42Mbit/s with DC-HSPA+ 3G as well as GSM/EDGE.
Broadcom's M320 LTE SoC is in production and the supplier will be at the upcoming Mobile World Congress show in Barcelona, February 24-27.
Richard Wilson

Tags:
broadcom
,
LTE
,
M320 LTE SoC
,
MWC
,
MWC 2014
Related Tech News
A Swiss wireless module supplier has introduced a range of…more »

Mobile World Congress is a massive event for the mobile industry, and its coming up…more »
Share your knowledge - Leave a comment