Android screen sizes steadily increasing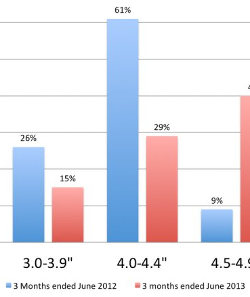 "Chart of the Day" they dub it, and this one shows that Android users increasingly favour bigger screens. BusinessInsider.com documents the increasing trend towards larger screen among Android users.
Whereas the predominant size of screen (61%) was 4.0-4.4-inch, in the three months ending June 2012, this changes to a predominant (40%) size of 4.5-4.9-inch in the three months ending June 2013. The drift upwards is visible in all the screen categories, covering these sizes in inches: <3, 3, 4.0-4.4, 4.5-4.9 and 5+.
The source of the data is Kantar Worldpanel ComTech, which surveys U.S. smartphone users.
See also: Poll: Phablets – the future of Smartphones?