Atmel maXTouch powers Galaxy S4 Mini touchscreen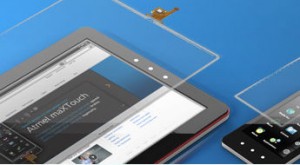 Atmel is trumpeting a design-in for Samsung's recently launched Galaxy S4 Mini smartphone, pictured below.
Its maXTouch mXT336S is powering the phone's touchscreen, a 4.3-inch high-definition super AMOLED display.
"Our popular maXTouch mXT336S controller enables Samsung to achieve superior touch performance, thinner sleeker designs, higher moisture immunity, lower touch latencies and support for stylus and surface gestures," said Binay Bajaj, Director of Touch Marketing, Atmel Corporation.
"We look forward to an ongoing collaboration with Samsung."
Pictured below is a maXTouch S Series chip.
More info on the Samsung Galaxy S4 Mini smartphone »

Tags:
galaxy
Related Tech News
Share your knowledge - Leave a comment