Bluetooth Smart enables ultra-thin wireless keyboard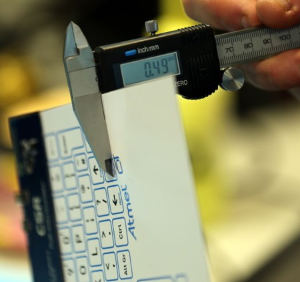 We wrote recently about GATT services underpinning Bluetooth Smart technology natively on Android, and here is a very interesting example. Coming to Android devices in the near future, I would hope.
CSR is boasting it had created the world's thinnest wireless keyboard measuring 0.49mm and incorporating a CSR1010 Bluetooth Smart IC. It has developed a reference design for the ultra-thin touch interface, which can support the use of a stylus as well as traditional keyboard.
Apparently, CSR worked with Atmel to provide the touch controller and Cambridge-based Conductive Inkjet Technology (CIT) created the laminated touch surface.
The combination of the Bluetooth transceiver which draws just 22µA with the Atmel 1664 touch controller offers a wireless keyboard with a battery life of weeks on a lithium-ion cell. "We have also demonstrated a simpler system using a lower power touch controller which has a potential battery life of years," said Paul Williamson, director of Low Power Wireless at CSR.
"The design takes advantage of the GATT profile which means that Bluetooth Smart has been optimised for an app store world," said Williamson.
The device will be unveiled at IFA Berlin (Hall 1.2 Stand 104) from 6-11 September 2013.
1 Comment