Microchip releases Android-friendly Bluetooth starter kit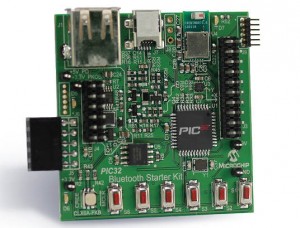 Microchip has announced a PIC32 Bluetooth starter kit, writes Steve Bush, which includes a microcontroller, Bluetooth radio, leds, accelerometers, a temperature sensor, and push buttons.
On board, a PIC32MX270F256D runs at 83DMips with 256kbyte flash and 64kbyte RAM, and includes USB, I2S/SPI, capacitive touch sensing and an 8bit parallel port.
"The kit reduces software development time by offering a free Bluetooth SPP stack optimised for the on-board MCU for setting-up emulated serial port connections between two peer Bluetooth devices," said Microchip.
Suggested applications for development are: wireless thermostats, gaming controllers, blood glucose meters, medical diagnostic tools, GPS receivers, barcode scanners, and Bluetooth serial adapters.
The free quick-start package is available today, with an Android application development environment.

Tags:
Bluetooth Smart
Related Tech News
Share your knowledge - Leave a comment