CoverReader adds E Ink screen to flip covers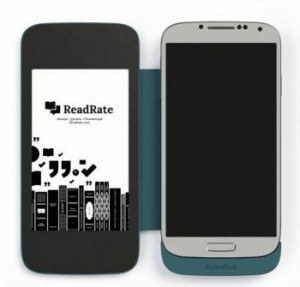 Here's an interesting one, coming out of the IFA 2013 in Berlin. It's a flip cover for HTC and Samsung Android smartphones that has an integrated electrophoretic display (EPD), using a daylight readable integrated E Ink screen.
It's the Pocketbook CoverReader and it will use Plastic Logic's flexible EPD product; the 4.8″ display will be manufactured in the company's Dresden facility.
According to Enrico Müller, sales manager of Pocketbook Readers GmbH, the company plans to expand the line of smartphone CoverReaders for such brands as HTC, Sony, and Samsung.
"We are excited to be working with Pocketbook on a number of projects and this smart mobile accessory application is a market segment with huge potential, for which our technology is ideally suited," said Indro Mukerjee, CEO Plastic Logic.
PocketBook is a manufacturer of e-book readers based on E Ink technology, it also makes Android-based tablet computers.
Richard Wilson