IDF 2013: Intel Atom "Bay Trail" Z3000 targets Android tablets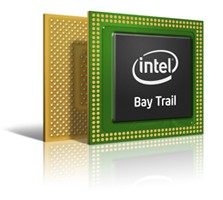 Welcome to Intel's latest attempt to crack the low-power, smartphone-friendly market – the Atom Z3000 series. The low-power systems-on-a-chip (SoC) codenamed "Bay Trail" are aimed at both Android and Windows tablets.
It contains four CPU cores, clocking up to 2.4GHz, and has Intel HD graphics support (for resolutions up to 2560×1600). reports V3.
Daniel Robinson writes:
The move means that Bay Trail will see the first x86 Android tablets come to market in the fourth quarter. The Windows devices are likely to appear after the release of Windows 8.1, which is set for 18 October.
The new series of chips has been highlighted at the Intel Developer Forum in San Francisco.
"What we have delivered with our Bay Trail platform is an incredibly powerful SoC that delivers outstanding performance, long battery life, and a great experience for the way people use these devices today. It's an incredible leap forward," said Hermann Eul, general manager of Intel's Mobile and Communications Group. "With Bay Trail as the foundation, our OEM partners are bringing a wide variety of designs at a range of prices to delight consumers, business users and IT managers."
The "Bay Trail" family of processors, writes Intel, is based on its low-power, high-performance microarchitecture "Silvermont," which was announced in May 2013. The Intel Atom Z3000 Processor Series is the company's first mobile multi-core SoC, and "its most powerful offering to date for tablets and other sleek mobile designs" says Intel.
See also: Intel Atom Z2580 appears in two Android smartphones