Listen out for Pressy, the multifunction Android controller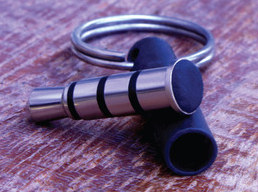 How neat is this? We're talking Pressy, the multifunction Android button controller.
It's very neat if you consider how rapidly the project has achieved its funding target on Kickstarter (400%, in one day). A lot of people obviously like the idea of adding a customisable button onto their Android device.
But where would the 'button' sit on a variety of different devices and form factors? This was my first thought, and the ingenious answer is that the headphone socket is used.
Basically, you can customise, through the Pressy app, which function(s) you want to associate with the little headphone-button and it will represent a shortcut past the usual Android intermediate steps. Apparently, you can "customize clicking behaviour and trigger dozens of different actions" (think Morse Code, in terms of long and short presses, in possible combinations).
The creators give the example below:
Touchscreens are amazing, but when you just want to turn on your flashlight, take a quick photo or send your location, simple actions can become a bit of a hassle.

Without Pressy, if you just want to turn your flashlight ON you need to:

Wake your screen -> Unlock it -> Exit your current running app -> Search for the app you want to use -> Launch it -> And finally, perform your desired Action.
How Does it Work ?
"Once you launch the Pressy app, you activate a background service. The service monitors the headset-jack into which the Pressy Button is plugged. The application is then activated only when the Pressy Button is clicked, therefore, it does not drain your battery. The application recognizes the specific input and preforms the desired Action. The Pressy app works on all Android devices, versions 2.3 and up."
At time of writing, 7,037 backers have pledged $164,965 (towards the $40,000 goal). And still 46 of the 47 funding days to go! The plan is also to provide an API to enable developers to extend the concept.
I think I want one, too!
[Via 
Engadget.com
]