Samsung addresses plastic cases with carbon manufacturing joint-venture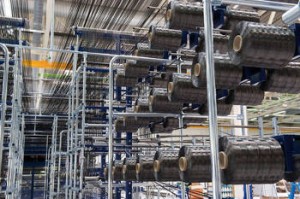 When Samsung phones increasingly sport carbon-based cases, you will know why… Our components editor, David Manners is reporting on a joint-venture between Samsung and SGL Group, the French manufacturer of carbon materials.
Samsung has been criticised for its use of plastic that give them a cheaper feel than Apple's aluminium cases, he writes, and Samsung says it will use the carbon material for consumer electronics.
Carbon fibre is tougher than plastic and is very light.
"Lightweight materials have become an important factor not only in industrial applications but also the consumer end markets such as digital media. This partnership will position Samsung as a leading player in the development and application of carbon fibre-based products," says Yoosung Chung, CEO of Samsung Petrochemical – the unit of Samsung which owns 50% of the joint-venture.
The venture gives Samsung exclusive access to a long-term supply of carbon materials.
(Image: Carbon fiber fabric production at Wackersdorf (Germany) site of the joint venture with BMW Group (SGL Automotive Carbon Fibers))

Tags:
Samsung
Related Tech News
Share your knowledge - Leave a comment