Snapp TV, Evernote, Mobiata swell Droidcon London speakers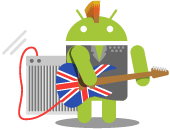 More details have been announced on the speakers at the Droidcon London 2013. Snapp TV's Juhani Lehtimäki, Evernote's Ty Smith and Mobiata's Dan Lew are among those taking part in what the organisers describe as Europe's largest android developer event.
The organisers write:
Juhani Lehtimäki, author of "Smashing Android UI" and head of Android development at the UK-based startup Snapp TV, will share his secrets about designing responsive Android apps for supporting all devices and fully utilising any screen size.
Co-founder of Recapp Android and engineer on the Evernote product team, Ty Smith, will reveal the importance of creating a well defined interface in an application to serve as a gateway between third parties and developers' web services.
Dan Lew, the development team leader at Mobiata who worked on the Expedia app, will give the low down on how designers and developers can really make an app stand out from the crowd and work together to create a polished user interface.
Other confirmed speakers for Droidcon London 2013 include:
Mark Allison, Author of http://blog.stylingandroid.com
Chris Arvin, Mobile designer at Expedia
Stephan Brunner, Head of Android Development at Runtastic
Jeff Gillfelt, Android extrordinaire, author of actionbar generator
Nicoll Hunt, Author of FIST OF AWESOME
Eric Lafortune, Creator of ProGuard and DexGuard and technical director at Saikoa
Dan Lew, Principal Android engineer at Expedia
Taylor Ling, UI/UX Designer at Materialise Malaysia and writer at androiduiux.com
Cyril Mottier, Author of Greendroid, Polaris and mobile software engineer at Capitaine Train
Mark Murphy, Founder of CommonsWare
Kumar Rangarajan, Co-founder and Chief Ion (CEO) at Little Eye Labs
Pierre-Yves Ricau, Android Software Engineer at Square
Lucas Rocha, Author of Pattrn, UI engineer at Mozilla Firefox
Al Sutton, Founder, Funky Android
The annual conference will be held from 24-25 October at the Business Design Centre in Islington, and will be followed by a Best-of-the-Best weekend hackathon at Skills Matter from the 26-27 October.