Android Jobs roundup…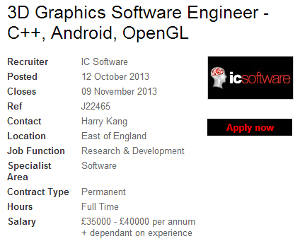 It's time again for another look at career opportunities in the Android area. In other words, looking at the Electronics Weekly Jobs service, what vacancies are available for those with some expertise of the Google embedded platform?
How about this full-time, permanent position for a 3D Graphics Software Engineer, based in Cambridge? It is advertised via IC Software, and offers "£35000 – £40000 per annum + dependant on experience".
This 3D Graphics Software Engineer position is a unique and challenging role for a very reputable Semiconductor company based in Cambridge. You have to be an engineer who is passionate about developing 3D graphics technology and wanting to know more about Android and Graphics/Gaming engines.
Or there is the Android & Audio Engineer, based in Berlin, no less. Advertised via European Recruitment, it is a permanent, full time position with a negotiable salary.
We are looking for an immediate start for our client based in Berlin, who are specialists in embedded automotive systems, develop software solutions for head units, telematics systems and advanced driver assistant systems. The basic technology underpinning all of their solutions is the standards-based software platform COQOS integrating Linux and Android-based systems as well as AUTOSAR-compliant software.
Or how about the "Embedded, Linux, Android" position at a developer of wireless connectivity solutions based in Cambridge? Advertised via IC Software, the full-time, permanent position offers £45000 – £60000 per annum.
You will be responsible for developing embedded Linux and Android based software in C and Java that will be embedded in millions of wireless devices and used worldwide. This is a new innovative product so you will be expected to use your forward thinking to develop the product going forward.
Finally, how about  an Embedded SW/Driver Engineer-Linux/Android,GPUs,Graphics, based in Cambridgeshire? Advertised via European Recruitment, it offers £38000 – £50000 per annum but this is negotiable.
Your responsibilities in this role will include:
- Developing graphics drivers for graphics cores;
- Design, Implementation and Testing of new features;
- Maintaining existing codebase and fixing bugs
But there are plenty more Android-related jobs listed online…
Check out all the Android-related jobs currently on the ElectronicsWeekly.com Jobs service »