Android Jobs roundup… Samsung Engineer, Security Architect, Mobile Applications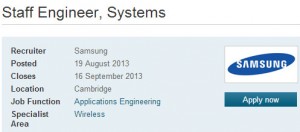 Time for another in our series looking at career opportunities in the Android area. In other words, looking at the Electronics Weekly Jobs service, what vacancies are available for those with some expertise of the Google embedded platform?
How about this full-time Hertfordshire-based position "Graduate Embedded Software Engineer". It is advertised via IC Software ("Competitive base salary plus excellent benefits").
A global semiconductor company is looking for a Graduate Embedded Software Engineer to join a team of engineers developing low-level drivers.The successful candidate will contribute to design, implementation and maintenance of the drivers.
Or, based in Germany with a "world leading semiconductor company", there is the permanent full-time position "Senior SW Security Architect". It is advertised via European Recruitment ("€70000 – €100000 per annum + benefits").
Your Profile:
- 10+ years experience in Software Security specifically for embedded systems
- Sound knowledge on secure OS-architecture and layering for embedded systems specifically for mobile devices, experience with e.g. Android
- Very good know how on cryptographic functions and algorithms
- Very good software skills for C, C++, Java and possibly assembler
- Good understanding of micro-controller and processor architectures
Or there is the Senior Systems Engineer – full time, based in East Anglia. It is advertised via IC Software ("Competitive salary plus excellent benefits").
Required Skills:
- Degree qualified in one of the following areas: Maths, Science, Software, Electronics. (2:1 Classification Minimum)
- Experience working with wireless technologies such as; Bluetooth.
- Experience in Linux/Android wireless device drivers development.
- Expert knowledge of C programming and Assembler.
- Excellent problem solving and embedded debugging skills.
- Knowledge of a scripting language such as Perl or Python.
There is also the full-time position with Samsung, "Staff Engineer, Systems". It is advertised via Samsung ("£43 ,000 – £56,000 + Excellent benefits package available").
This may be minor embedded software running on the on-chip processors, and major associated host software running on a host processor. For the embedded software, this involves coding in C within a resource constrained multi-processor environment. Host software (mainly driver) is written in a high level language such as C, C++ and Java, which situated in the Android framework. In both cases, some use may be made of scripting languages such as Perl and Python.
Note, this is just one of a raft of positions with Samsung that have just been uploaded to the site.
Also, there are plenty more Android-related jobs listed online.
Check out all the Android-related jobs currently on the ElectronicsWeekly.com Jobs service »