Android Jobs roundup…Audio Contract Engineer, Gaming, Software Engineer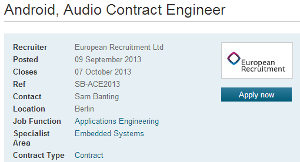 Time for another in our series looking at career opportunities in the Android area. In other words, looking at the Electronics Weekly Jobs service, what vacancies are available for those with some expertise of the Google embedded platform?
How about this full-time, contract position for an experienced Android, Audio Contract Engineer. It is based in Berlin, to start ASAP, but you can also work from home.  It is advertised via European Recruitment ("€48 – €60 per hour").
You will join a world-leader and be required to Analysis, Design and Implement the following tasks:
-Adapting AudioPolicy to implement third party audio policy strategy
-Modifying the mixing behaviour of the Android audio output
-Introduce a filtering for specific audio source in ANdroid depending on third party interface
-Extending AudioFlinger with additional notifications for common Android Apps
Note, this is just one of a number of Germany-based Android jobs that have been uploaded to the site, via European Recruitment.
Or there is C++ / Java Graduate – Android / Gaming, based in Bristol. It is a permanent, full-time advertised via IC Software ("£24000 – £28000 per annum").
An exciting company based in Bristol is looking for a C++/Java graduate with a background (or knowledge) of Android mobile applications.  You will have the opportunity to work on all aspects of the Android software stack and have the unique opportunity to contribute to the overall growth and direction of the company.
Or there is the Software Engineer, Android, Linux, C, C++. The permanent, full-time position is based in Sweden and is advertised via IC Software ("€47000 – €60000 per annum + EU 47000 – €60000″).
Great opportunity for an experienced Linux /Android Driver Software Engineer based in Sweden. You will be working with a team dedicated to driving new technology within the mobile / wireless markets and the software you design will be used worldwide. Coupled with this you will enjoy the feeling of working with a recognised world leader whose technology can be found in the majority of wireless devices on sale throughout the world.
There is also the full-time position Senior Applications Engineer (Mobile Operating Systems) based in East Anglia. It is advertised by IC Resources ("Excellent Salary Offered + Bens").
Our key client seeks a Senior Applications Engineer with excellent Linux and Android OS level skills to promote their offerings far and wide throughout the wider software ecosystem. A real passion for software and how it drives the hardware within Smartphones / Handhelds / Tablets etc will allow this person to shape the future of handheld computing. Based from the offices in East Anglia, travel to customer sites and trade shows will be an activity that you relish.
But there are plenty more Android-related jobs listed online…
Check out all the Android-related jobs currently on the ElectronicsWeekly.com Jobs service »