Appsters Awards awarded, SwiftKey sweeps up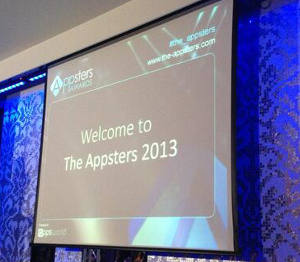 Apps World has now finished (and Droiodcon London begun), but I must cover the annual Appster Awards, which are part of Apps World.
Thirteen awards were up for grabs, celebrating excellence in the mobile app arena.
Swifkey, the alternative Android keyboard specialists, were the main winners on the night, scooping the Best Consumer App and Appster Champion awards.
Comedian Simon Evans was the host for the evening at the Kensington Roof Gardens, and here are the full results:
Best Consumer App award: SwiftKey
Best Enterprise App award: iPresentapp
Best Entertainment App: YPlan
Best Payment Solution: hailo
Best Use of API Award: ReferenceMeApp
Best TV App: BBCiPlayer
Best Windows and Windows Phone App: FatAttitude
Best App Technology Award: ooVoo
Most Innovative App Award: Hailo
Start-Up App: Refund.me
Best Indie Game Developer Award: Vivid Games.
App Developer Award: Mubaloo
Appsters Champion: SwiftKey
View the full Appster shortlist »