Appsters Awards 2013 shortlists announced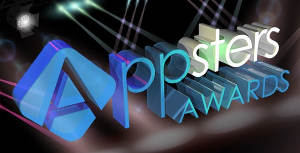 The Apps World 2013 event is running 22-23 October at Earls Court, and the associated Appsters Awards shortlists have just been announced.
There are twelve categories in The Appsters, ranging from best indie games developer to most innovative app. Appsters Champion 2013 is also up for grabs by one of the category winners.
This panel of expert judges includes Tesco's mobile experience director Luke Vinogradov, Google's principal architect Grant Allen and Spotify's head of special projects Shakil Khan, among others.
The organisers write:
All those shortlisted will also go through a rigorous quality and usability health check using a range of guidelines and diagnostic tools from the App Quality Alliance (AQuA), whose executive director Martin Wrigley is also a judge. The test results will be available to those shortlisted post awards.

The winners will be unveiled at a fun filled awards ceremony at London's Kensington Roof Gardens hosted by leading comedian Simon Evans. The ceremony is open all of those with an Apps World Gold or Networking pass – to register please click here.
Best App Technology 2013
ooVoo
blippar
SceneTap
Phunware
AT&T – Speech API
Marmalade
Perfectly Clear
Best Entertainment App 2013
nimbletank – Universal Music
YPlan
Haunting Melissa
Ringtonium
Printic
Apposing – Nando's
AT&T – U-verse
App Developer 2013
Mubaloo
Oakley Mobile
Compsoft
NQ Mobile
Mobi Systems
mxData
IURO
Tigerspike
BBC
Mobile Marketing Agency 2013
nimbletank
Codeexceptional
Somo
Magic Solver
Start-up App 2013
Refund.me
VSC – tile
myHealthPal
Ps Postcards
RedToasty
DevaniSofts
Indie Game Developer 2013
Game Scorpion
Illyraid Games
Rebellion
Vivid Games
Playrise Digital
Niffler
Most Innovative App 2013
Future Platforms – Twickets
Halcyon Mobile – Dollarbird
Distress Signal
British Gas Connected Home
Hailo
BeSocial
Beauty Fool
Somo – Audi A3
Best Consumer App 2013
Refund.me
Skyscanner
Socially Bright
SwiftKey
British Gas
Hailo
BBC Weather
Best Use of API 2013
SOA Software – API Management
SOA Software – API Gateway
Judo Payments
T+Biscuits
Ondigi CRM
Appnostica
Best Payment Solution 2013
cashcloud
Coretree
RBS & Montise
Text2Pay
Hailo
ZapZap
Best Enterprise App 2013
Mubaloo – Aviva
DoubleDutch
Oakley Mobile – I get you pro
Emergent Health
iPresent
AirWatch
CloudApps
Best TV App 2013
SPB TV
Vision
ESPN
Shazam
BBC iPlayer
See also: Apps World 2012: Appster awards awarded