Fragmentation monthly – Goodbye Donut and Eclair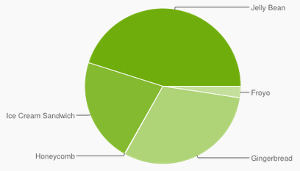 Google has just updated its figures showing the latest monthly takeup of the various Android versions. With the predictable domination of Jelly Bean – as versions 4.1, 4.2 and 4.3 of the platform are now all labelled the same – perhaps the most interesting point to note this month is the disappearance of Donut and Eclair.
Cupcake, v1.5 (issued April 2009), had already fallen below the radar, and its companion 1.6 (Sep 2009) and 2.1 releases (Oct 2009) have now officially disappeared. The reason for this is simple -  the latest data is now gathered from the new Google Play Store app, which only supports Android 2.2 and above, so devices running older versions are not included…
The latest Jelly Bean Android versions v4.x now account for just over two-thirds of Android devices (66.8%, up from 61% last month)…
See Google's developers blog for the latest figures. ("Data collected during a 7-day period ending on September 4, 2013.")
Here are the detailed figures….
1.5 Cupcake – disappeared
1.6 Donut (was 0.1%) - disappeared
2.1 Eclair (was 1.2) - disappeared
2.2 Froyo (was 2.5) 2.4%
2.3 – 2.3.2 Gingerbread - disappeared
2.3.3 – 2.3.7 (was 33) 30.7%
3.2 Honeycomb (unchanged) 0.1%
4.0.3 – 4.0.4 Ice Cream Sandwich  (was 22.5%) 21.7%
4.1 Jelly Bean (was 34%) 36.6%
4.2 Jelly Bean (was 6.5) 8.5%
The Google page also gives stats on the historical distribution, screen sizes and densities, and Open GL versions…