Google Wallet payment app bypasses NFC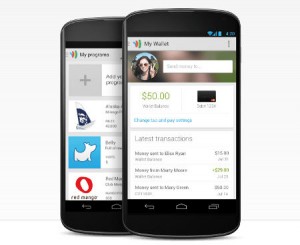 I've been trying to keep an eye on NFC on Android – it is one of the differentiators for the platform – and here is some related news (from CNet and Verge and various places)…
The Google Wallet payment app – which currently only works within the US – used to use NFC for its comms as part of a "contactless payment" process, but this is no longer necessarily the case.
Google has now updated the app to make it available to a wider range of phones, so it is no longer reliant on NFC support.
On Google Play it writes:
We're starting to roll out the new Google Wallet app today, but it will take a couple of days for it to be available to all users in the US. If you see the message, 'This app is compatible with some of your devices', this means that the latest version hasn't yet rolled out to you. Please check back later this week to download the latest version.
Features of the app include sending money within the US to someone with an email address, and storing credit, debit, and loyalty cards for quick payment.
Google Wallet works on devices with Android 2.3.3 or later. Note that it seems some major carriers (AT&T, Verizon and T-Mobile) still won't support the NFC functionality.
There's a list online of supported phones and here is the FAQ.