Google's Android Open Source Project leader departs for Yahoo!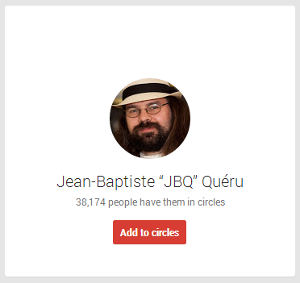 A bad sign for Android, for people who care about open source? The Register reports that Jean-Baptiste Quéru ("JBQ"), formerly head of Google's Android Open Source Project (AOSP) has departed to Yahoo! shores.
It's another leading Android departee from Google, after the recent exits of Android vp Hugo Barra last month and Android founder Andy Rubin in March.
The Register's inimitable headline is: Former! Android! Open! Source! Boss! Takes! Job! At! Yahoo!
As to why he left, it flags this post by Quéru on Google+
There's no point being the maintainer of an Operating System that can't boot to the home screen on its flagship device for lack of GPU support, especially when I'm getting the blame for something that I don't have authority to fix myself and that I had anticipated and escalated more than 6 months ahead.
Neil McAllister, writes:
On Tuesday, Quéru announced that he had accepted a position at Yahoo!, and while he was cagey about the specifics, he said that he is "going to be working in engineering on the suite of Yahoo! mobile apps."

Mobility has been a particular area of focus for the Purple Palace since CEO Marissa Mayer took the corner office in 2012. During Yahoo!'s most recent earnings call in July, Mayer said, "Yahoo's future is mobile and we're delivering our products mobile-first," and added that the company had reached a pace of launching a new product every week.
See also: Google opens source code for Android 4.0.1