iPhone 5 trounces Android in touchscreen responsiveness benchmark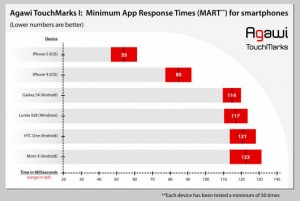 This one certainly caught my eye. Is the year-old Apple iPhone 5 really twice as fast, in terms of touch responsiveness, as the current Android smartphone flagship, the Samsung Galaxy S4? And that is indeed the best of the Android phones tested.
Agawi's TouchMarks I benchmarking system addresses the issue of touchscreen response times, and the results are striking.
In explaining the results, they write:
There are several possible reasons for this. Since touchscreen hardware has significant latency itself (check out this video from Microsoft Research for a visual demonstration), our best guess at Agawi is that Apple's touchscreen hardware is better optimised or more sensitively calibrated for capturing and processing touch. Another possibility is that while the Android and WP8 code are running on runtimes (Dalvik and CLR respectively), the iPhone code is written in closer-to-the-metal Objective-C, which may reduce some latency. In future TouchMarks, we'll compare C/C++-based Android apps to Java based apps to determine if this is the case.

Regardless of the reasons, the conclusion is clear: the best written apps on iPhones will simply feel more responsive than similar apps on the current gen of Android devices. (We speculate this might be a major reason why the iPhone keyboard generally feels better than the Android keyboard to many people.)
I would be very surprised if Android phones weren't using Android Native Code for such crucial time sensitive user-interactions – see What is… Android Native Development – but maybe they have a point?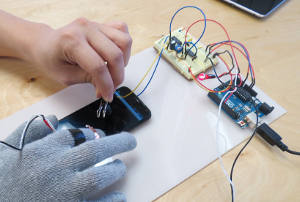 How do they record or measure this ephemeral experience?
Using a combination of high frame rate cameras capturing at 240fps and custom Agawi hardware (pictured right) , we can accurately measure the App Response Time (ART), which we define as the latency from the time the user feels that they've touched the device's display to the time the user sees a response on the screen.
They also make the intersting point most developers underestimate the end-to-end latency of their apps because they are not fully aware of the latency inherent in touchscreen interaction.
For example, if the app is calling out to the network to respond to a touch event, achieving an end-to-end latency of under 80 milliseconds is unrealistic (not even counting app processing time), even on an iPhone. Our suggestion is to add the device's MART score to the app's internally calculated response time to approximate the app's end-to-end latency.
gizmag.com
]