Jelly Bean reaches majority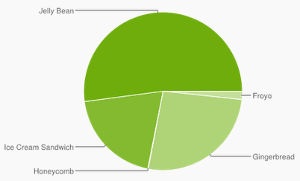 The recent release of Android 4.4 (KitKat) featured power and footprint optimisations. The lower requirements spec should enable the software to run on a greater variety of older devices – a key element of Android's battle against fragmentation. But how do the latest figures of platform versions stand up?
The big take-away is that Jelly Bean (4.1 – 4.3) now accounts for more than half of active Android devices (52.1%, to be precise, if you group the sub-flavours together)…
The most recent Jelly Bean, v2.3 (API version 18) accounts for 2.3% in its own right. The latest release, 4.4, will not show up yet.
See Google's developers blog for the latest figures. ("Data collected during a 7-day period ending on November 1, 2013. Any versions with less than 0.1% distribution are not shown.")
Here are the detailed figures….
1.5 Cupcake – disappeared
1.6 Donut - disappeared
2.1 Eclair - disappeared
2.2 Froyo – 1.7%
2.3 – 2.3.2 Gingerbread - disappeared
2.3.3 – 2.3.7 – 26.3%
3.2 Honeycomb – 0.1%
4.0.3 – 4.0.4 Ice Cream Sandwich - 21.7%
4.1 Jelly Bean – 37.3%
4.2 Jelly Bean – 12.5%
4.3 Jelly Bean – 2.3%
The Google page also gives stats on the historical distribution, screen sizes and densities, and Open GL versions…