Taking Samsung wearables for a run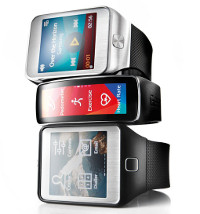 One to note. PC Pro have reviewed the range of Samsung wearables.
They take a look at the Samsung Gear 2, Gear 2 Neo, and Gear Fit, seeing how they measure up in terms of fitness aids, battery life, camera usage, etc.
The Gear 2 is rated the best of the bunch, with the Gear Fit trailing.
Darien Graham-Smith writes, for example:
The only thing spoiling this excellent first impression is the design of the thick rubber straps on the Gear 2 and Neo: the bulky clips get in the way when you're typing, and we found the metal clasp dug into the flesh. Still, unlike the original Galaxy Gear (which embedded a camera into the wristband), these models use a standard 22mm strap fitting, so you can easily fit a replacement of your choice. It's also possible to replace the band on the Fit, should you so wish; here the rubber band simply pulls off to allow a replacement to be snapped on.

Tags:
Samsung
Related Tech News
Share your knowledge - Leave a comment