KitKat Android? Give me a break!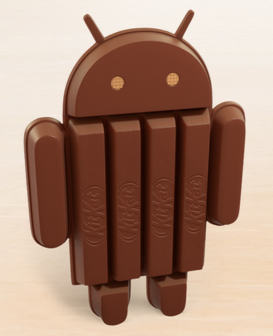 Android versions get registered trademarks…
Whoah! Who saw that coming? Bizarrely, Google is now using Android code names in commercial deals. With a succession of candy/desert based codenames identifying versions of Android, poor old "Key Lime Pie" will now never see the light of day. The successor to Jelly Bean will be… KitKat.
That's right, Nestlé's popular chocolate wafer offering – originating with Rowntree in old York – is going to intrude in all future discussions about the development of Google's mobile and embedded platform, version 4.4.
My first thought was this was a spoof, but check out the Android page – www.android.com/kitkat/
Google writes:
Android is the operating system that powers over 1 billion smartphones and tablets. Since these devices make our lives so sweet, each Android version is named after a dessert: Cupcake, Donut, Eclair, Froyo, Gingerbread, Honeycomb, Ice Cream Sandwich, and Jelly Bean. As everybody finds it difficult to stay away from chocolate we decided to name the next version of Android after one of our favorite chocolate treats, KitKat®!
To mark the release of Android KitKat, 50 million specially branded KitKat bars will be available in 19 countries, including the UK. The packs will promote the web address android.com/kitkat where there will be a chance to win prizes, such as a Google Nexus 7 tablet or credits to spend in Google Play.
"We're excited to announce this partnership with Android, the world's most popular mobile platform, which will help us to enable even more KitKat fans to enjoy their break," said Patrice Bula, Nestlé's head of marketing.

"KitKat is one of the world's top ten fast-moving consumer goods brands in social media in terms of fan numbers and engagement. We continue to build on its strong digital presence with interactive, creative branding campaigns."
"This is not a money-changing-hands kind of deal," John Lagerling, director of Android global partnerships, told the BBC. He said, the idea was to do something "fun and unexpected".
You've got to laugh. Only in America.
See also: Apple throws pie chart in face of Android