Android KitKat crumbs on social media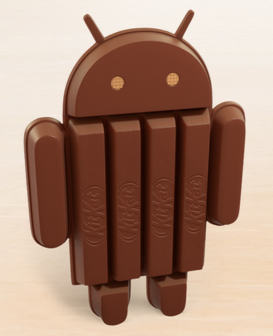 Hungry for Android KitKat® news? There's a roundup of the crumbs of info on offer in International Business Times.
The release is expected to accompany the release of Nexus 5 on the 1st of November, with the device running the 4.4 version of the OS.
Fionna Agomuoh has been keeping an eye on various Nestle's social media activity looking for clues. She writes:
As Google was hosting its Google+ media event Tuesday (which also came and went with no appearance from Android 4.4 and the subsequent Nexus 5 smartphone), Nestlé took to social media yet again, uploading a teaser video.

Dubbed a #magicbreak, the video included the caption "Android KitKat 4.4 – one to enjoy whilst you're waiting." It features two Androids, one with a KitKat bar. The other Android is wearing a top hat and offers to do a magic trick with the single KitKat finger the first Android has broken from a full candy bar. The trick comes as the magician Android eats the KitKat finger and disappears in a puff of smoke.
See these roundups, also:
Android 4.4 KitKat: budget phones and wearables to get a boost (Gadget Show)
Android 4.4 KitKat: release date, news and the sweetest features (KnowYourMobile)
The general thrust of informed reports seems to be that 4.4 will be less about whizz bang new UI elements and more about power and footprint optimisations, the lower spec for which will enable the software to run on a greater variety of older devices. A key element of Androids battle against fragmentation…
We shall see very shortly.