Mind the Android-iOS monetisation gap?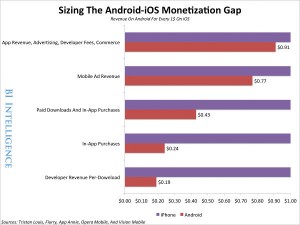 It's a much repeated observation that the serious app revenue to be had is via Apple's iOS and the iStore, but maybe that is starting to change.
An interesting piece on Business Insider – It's No Longer True That Android App Developers Are Starving For Revenue, Here's The Evidence – highlights a new report from its BI intelligence that suggests the gap is closing.
Brandon Workman and Marcelo Ballve write:
When taking into account commerce, advertising, developer fees and app revenue, Android has nearly closed the monetization gap with Apple's iOS operating system. Android developers worldwide earn 90 cents for every 1$ earned by iOS developers, according to the latest data.
The reasons? Possible positive factors include: making Google Play services more central as a means of minimising Android fragmentation; advertising proving an important revenue source; and Google teaming up with some carriers to simplify billing for app downloads and purchases.
It's not all positive for Android, though. The report notes that Android's growth has stalled in the US even as it grows worldwide.