Picking assets the Google Drive way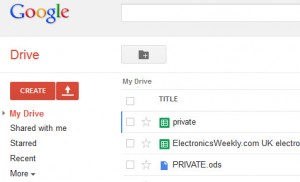 A quick way for your app to  interface with the numerous Google application assets? Google is flagging the Google Picker API as a way to enable users to select photos, maps, videos, and documents created via Google's own apps.
Google Software Engineer Kuntal Loya writes on the Google Developers Blog that this Picker API is now available via the quick access Google APIs Console.
Starting today, the Picker API is available via the APIs Console. For those of you who are already using the API, this change makes it easier to manage and view traffic and authentication data alongside any other Google APIs that you may be using with your application.

To get started, register your project on the APIs Console. If you're already using the Picker API, you'll need to include the developer key you obtained during registration with the JavaScript used to create the picker.
Why bother? The promise is this can be achieved using a few lines of JavaScript. It will also provide the familiar look-and-feel users will recognise from Google Drive – an alternative to managing the usual File Open dialogs or having to cut-and-paste a URL, typically from another web browser tab or window. It uses an inline, modal window, so users never leave the main application.
Read more about the Picker API in Google's Developer Guide »