Facebook gets shocking with a Pavlov Poke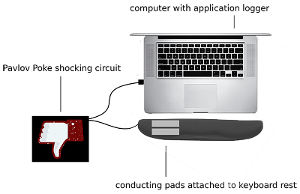 You've got to laugh at this one. Some MIT students were concerned at the amount of time they were spending on social media sites and – rather than just complain and moan about it to themselves – they constructed an ingenious Arduino-based solution: rig a system that gives them a small shock each time they are tempted to waste more time…
Robert R Morris, onc of the creators, describes it as a "keyboard accessory that shocks you when you over indulge in online distractions."
"It's a counter-conditioning technique to help avoid you avoid these habits," adds Daniel McDuff the other creator. "It monitors application usage and if you spend too much time in a particular application you'll get a shock", the Pavlov Poke. Unpleasant but not dangerous, of course.
They write on the project website:
The design is simple. There are four important components:

UI Inspector: You need something to monitor computer application usage. We use the Mac's UI Inspector.

Processing Code: If a distracting site is visited too frequently, a Processing script produces an on-screen alert.

Arduino: An Arduino is connected via USB to the computer. When a shock is triggered, the Arduino activates a relay and starts the shock circuit. If you want more info on how to build a shock circuit, check out this fine tutorial.

Electrodes: Conductive metal strips are placed on the keypad. When the Arduino relay is triggered, a current is sent through the strips and through palm of your hand. Ouch!!!
[Via
Technobob
]