Featuring homemade electronic gadgets, the latest in development boards (Arduino, BeagleBoard, Raspberry Pi, etc), examples of cool design, and the latest and greatest (and most shiny) consumer gadgets.
BB View resistive touch-screen display capes for BeagleBone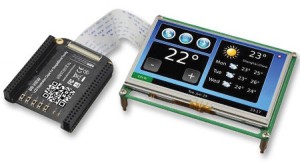 It's not all about the Raspberry Pi. We know the BeagleBone dev board is hugely popular on the site, so this one is worth noting.
Farnell element14 is selling a couple of resistive touch-screen display expansion capes, dubbed BB View, for the BeagleBone family.
The LCD expansion capes are available in two display sizes – 4.3-inch and 7-inch – and provide full access to the BeagleBone GPIOs. They don't require any external power supply and come with Linux QT demo.
The 4.3-inch version is priced at £48.77 and the 7-inch version £73.46.
Features:
24-bit TFT LCD modules, 7-inch(800 x 480), 4.3-inch(480×272)
4-wire resistive touch-screen
Full GPIO expansion via two 46-pin connectors
5 user switches
2 user-defined LEDs
Works with BeagleBone and BeagleBone Black
Power supply: +5V (from BeagleBone)

Related posts