boomBottle music for cyclists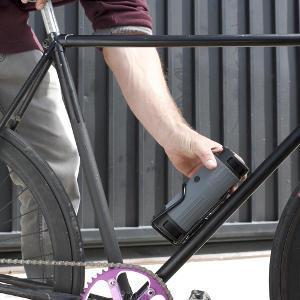 I'm torn on this one. I've many a time said that we love bicycle gadgets here on Gadget Master. But portable speakers, for outside use? Not so much.
Thanks to Sue P, though, for highlighting the Scosche boomBottle, a wireless, weatherproof, shock-absorbing, portable Bluetooth speaker. It sits on your bike where your water bottle would. So, if you prefer audio to liquid refreshment, you can slot in the boomBottle.
It features dual 40mm drivers, passive subwoofer and an omni-directional speaker cone. A rechargeable lithium polymer battery provides up to 10 hours of continuous music playback, claim the makers.
They write:
Experience remarkable audio with the boomBOTTLE – Rugged Weatherproof Wireless Portable Speaker that fits right inside your bicycle water bottle cage. boomBOTTLE has been designed to bring entertainment to the oudoors. This wireless bluetooth media speaker is weatherproof and durable, allowing you to take your music virtually anywhere.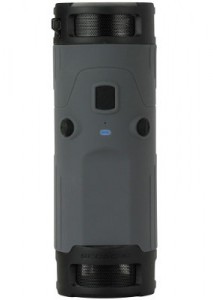 Available in four colors, and compatible with all A2DP (Advanced Audio Distribution Profile) audio devices, it's priced at $149.95.
The full spec:
Dimensions 2.85″ Diameter, 8.125″ Length
10 hours continuous playback
Bluetooth 4.0; A2DP, AVRCP, HFP BT Profiles,
33 feet wireless range
Built-in aux input for connecting non-Bluetooth enabled devices
2 x 3W 40mm Speakers
You can read a review of the Scosche boomBottle on GizMag.
Ben Coxworth writes:
All told, the BoomBottle sounds great and does all the things that its makers claim it does (minor cage compatibility issue aside). Testing for this review aside, I have to admit that I'd personally never use it to blast tunes while on my bike, as I doubt that the average passer-by would benefit greatly from being exposed to my tastes in music. It would be nice for things like long-distance touring, however, plus it most certainly doesn't have to be used while cycling – it even comes with the requisite carabiner, so it can be hung from things like backpacks.
See also: What is… a GATT Service?
3 Comments