Tearing down the Samsung Galaxy S5
It doesn't take the guys at iFixit long to teardown the latest piece of high-tech kit. The Galaxy S5 – Samsung's flagship Android-based smartphone – is no exception.
It was first unveiled at Mobile World Congress back in February, but hit UK highstreets 11 April.
Check out their look at dismantling the gadget. There are 18 steps in total.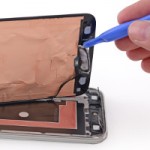 Their overall verdict, in terms of simplicity of repairability? It's a thumbs down, I'm afraid…
The upside is the battery is very easy to remove and replace. The downside is replacing anything other than the battery is not so easy – it "requires first removing the display, risking extra damage on the way to a repair".

Tags:
Samsung
Related Tech News
Share your knowledge - Leave a comment