Featuring homemade electronic gadgets, the latest in development boards (Arduino, BeagleBoard, Raspberry Pi, etc), examples of cool design, and the latest and greatest (and most shiny) consumer gadgets.
Crowdfunding Watch: HDMIPi, Neptune Pine, Lightstrap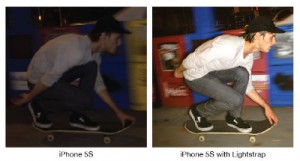 Let's continue our series looking at some of the good projects surfacing via sites like KickStarter and IndieGoGo. You never know, you may be tempted to contribute, and help make something happen…
How about the Lightstrap, for shooting low-light photos and videos on your iPhone?
With 484 backers pledging $44,643, they are short of their $245,000 goal, but there are 25 days to go, at time of writing.
The creators write:
Lightstrap is a photographic lighting tool for iPhone 5 and 5S that enables you to shoot stunning photos and videos at night. No more blur and grain, just crisp vibrant photos with the distinctive look of a professional ring light. Lightstrap follows the flash on your phone so it works seamlessly with all camera apps.

Lightstrap provides soft light, colour control and flexible power. Even the most expensive professional flash units lack these features. It's a superior approach to low-light photography and it comes first to iPhone.
See the contrast of "with and without" the Lightstrap in the picture above.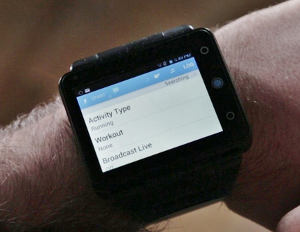 Or what about the Neptune Pine, another high-spec smartwatch offering an alternative to those from Sony and Samsung?
The team writes:
Smartwatches have been a topic of much interest lately. However, most of the wrist-worn devices on the market right now don't really seem to be living up to the hype. They're usually sold as Bluetooth-tethered accessories for your smartphone; either for fitness tracking or as a sort of notification center. But then you'd have to buy and carry around two devices all the time, which actually means more hassle. That's not cool. That's not fun. That's why we decided to develop our own smartwatch: the Neptune Pine, the most connected independent smartwatch.

The Pine is the only device you'll ever need. It's really the top of the food chain when it comes to smartwatches, packing more features than any wrist-worn device out there, without the need to keep your smartphone nearby. This is the smartwatch, reinvented.
What are these extra features? Think support for voice calls and texting (full standalone support for quad-band GSM/GPRS/EDGE and quad-band UMTS/HSPA+/WCDMA), a full QWERTY keyboard, a Qualcomm Snapdragon dual-core 1.2GHz processor, voice recognition, dual cameras (front and rear (5-megapixel)) both with flash, 2.4-inch display and support for helmet mounting…
"Since our screen resolution is a standard resolution listed in the Android SDK, the Pine will seamlessly run hundreds of thousands of existing apps."
People obviously like it. With 2,144 backers pledging $569,494 Canadian Dollars, they have already busted their $100,000 goal with another 12 days to go.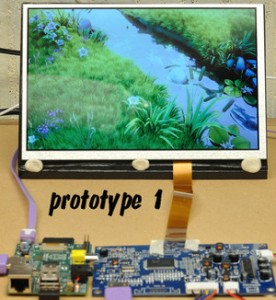 Finally, HDMIPi has not long completed its fund raising. With 2,523 backers, they've surpassed their $55,000 goal having raised £261,250.
Basically, the HDMIPi based on an HDMI controller board and is designed to be an affordable 9-inch High-Def screen for the Raspberry Pi.
The creators write:
The Raspberry Pi can display full HD (1920×1080). You can buy a full-size monitor at that resolution, but that's not what we're about. We're looking for something small and portable. That's where it gets a bit tricky.

There are very few small, portable, HDMI screens available on the market. Most of the ones out there have 800×480 or 800×600 pixels. These are largely aimed at professional photographers and videographers (with a price tag to match!)

Some sellers are a little bit sneaky, making you think their screens are HD because they have HDMI connections. HDMI is the High-Definition Multimedia Interface, not the screen itself. They scale down the resolution to fit the number of pixels. And most of these screens sell for way over £100 ($150). I think that's giving too little and taking too much.
Tempted? It won't be a touch screen, by the way.
Previous Crowdfunding Watch posts

Related posts
4 Comments