The first fabric screen-printed watch display?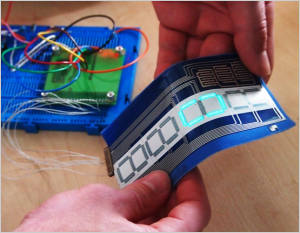 One for our new Student Gadget Meisters section. Is this the world's-first smart fabric screen-printed electroluminescent watch display?
The gadget master in question is Marc de Vos, a third-year student in Electronics and Computer Science, who has developed the fabric device for his Part III Individual Project.
According to the university, the watch display is printed directly on to fabric, and it is printed layer by layer – in the Southampton Nanofabrication Centre cleanroom – using screen-printable pastes.
These apparently can support electronic functionality such as conduction, insulation and electroluminescence.
"Marc has used the world-class facilities available in the department to produce his prototype. Presenting his work at the conference shows what is possible for our undergraduate students to achieve during their time here," says his supervisor Dr Russel Torah, Senior Research Fellow in Electronics and Computer Science at the University of Southampton.

"The project has given me the chance to put the theory learnt over the last three years into practice and led to my involvement in the brand new field of printed smart fabrics," said Marc.
He has just completed the third-year of his four-year MEng degree in Electromechanical Engineering, but he's already fully graduated as a Gadget Master laureate for us!
Image: Marc's screen-printed digital watch on fabric – Copyright: ECS, University of Southampton