Featuring homemade electronic gadgets, the latest in development boards (Arduino, BeagleBoard, Raspberry Pi, etc), examples of cool design, and the latest and greatest (and most shiny) consumer gadgets.
Gadget in extremis: 20mm drone autopilot system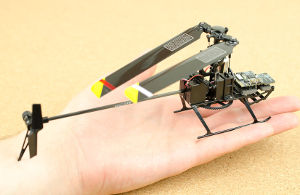 Drones. The name has become tainted and so lessens the enthusiasm with which I might otherwise greet this clever piece of kit…
Wired.com highlights what it describes as the world's smallest drone autopilot system – Lisa/S – which is 30 grams lighter than its predecessor. It has been designed at the Delft University of Technology in the Netherlands and all the hardware and the software is open source.
Measuring 20mm squared, it is a very small, general purpose autopilot system. The plan, they say, is for 1 Bit Squared, a designer and manufacturer of hardware for unmanned aerial vehicles, to sell Lisa/S chips at the start of next year.
Klint Finley of Wired writes:
Remes says he's been flying remote-controlled aircraft since he was six years old. About 10 years ago, as a student at Delft, he started building his own drones, attracted to the challenges of programming and electronics. It turned out that very small drones – called micro air vehicles, or MAVs – are a great way to teach aerospace engineering because they're relatively cheap, safe and easy to program.

"At university, a lot of students are working in a compute simulation and never see the real world," Remes says. "With MAVs, they get to see the real world." His student work turned into a full-time job as the head of the university's MAV Laboratory, which is responsible for projects like DelFly, a small wing-flapping drone that resembles a dragonfly.
Features of Lisa/S
72MHz 32bit ARM Cortex M3 MCU with 16KB RAM and 512KB Flash
Combined 3 Axis Gyroscope and 3 Axis Accelerometer
3 Axis Magnetometer
Barometer (Altimeter)
Onboard U-Blox GPS
Pads to simply connect a Superbit CYRF RC and telemetry module
Switching buck/boost converter allowing wide range of power input making it perfect and stable for operation from a 1S LiPO cell.
2 MOSFET switches connected to PWM output channels
6 PWM (servo) outputs
1 debug UART port
1 CAN interface
1 Bind/Boot tact switch
SWD programming/debugging interface
Size: 20mm x 20mm x 5mm (0.787″ x 0.787″ x 0.197″)
Weight: 2.8g (0.1oz)
See it in action:
Just don't let the drone fly over Colorado…
See also: Aeromapper X5 drone provides DIY mapping
Image: 1 Bit Qquared – the Lisa/S chip is at the front of the drone.
Previous entries:

Tags:
axis accelerometer
,
blox
,
clever piece
,
delft university of technology
,
superbit
Related Tech News
Welcome the new Arduino - the Esplora! It's shaped like…more »
1 Comment
Share your knowledge - Leave a comment