Gadget Watch: Apple iPhone 5S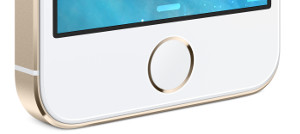 Why are we showing a close up of a button? Because, of course, it is the new styled Home button, on the iPhone 5S unveiled last night at the company's Cupertino HQ. A biometric button, no less. Apple writes:
And now we've taken touch to the next logical place with Touch ID, the fingerprint identity sensor. Your fingerprint is the perfect password. You always have it with you. And no one can ever guess what it is. But beyond that, it just made sense to us that your phone should recognise you. It should learn you, not require you to memorise and enter passwords in order to use it. We also knew the right place to locate the sensor was where you naturally touch your iPhone – on the Home button. But how could we fit all the technology that sensors require in such a small space?

Made from laser-cut sapphire crystal, the surface of the button directs the image of your finger to a capacitive touch sensor, which reads beneath the outer layers of your skin to get a detailed print. Surrounding the button is a stainless steel ring that detects your finger, wakes the sensor and improves the signal-to-noise ratio. Software then reads the ridges of your print and finds the match to unlock your phone. It's all highly advanced technology that simply disappears as you use it. So you don't notice anything. Except how unlocking your iPhone is suddenly so effortless.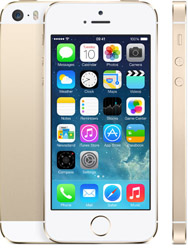 The new phone also features a new engine, the (64-bit) A7:
The A7 chip is designed around 64-bit architecture – a first for any smartphone. The move to 64-bit has been years in the making. But we did it because we wanted to put desktop-class processing power in the palm of people's hands. Just imagining what people will do with that made the decision to invest in it an easy one. The A7 chip gives iPhone 5s the power it needs for all the capabilities it now possesses. It's up to 2x faster than the previous generation in both CPU and graphics performance. It has an all-new image signal processor. And it supports OpenGL ES 3.0, enabling visual effects previously possible only on computers and gaming consoles.
In terms of the "Retina" display, the 4-inch (diagonal) Multi-Touch screen has 1136×640-pixel resolution, at 326 ppi, with a 800:1 contrast ratio.
The 8 megapixel camera uses a larger sensor that, claims Apple, gives a 33% increase in light sensitivity. And there's "True Tone" flash, which "intelligently figures out exactly how much light your shot needs".
Running iOS 7, the new golden boy Apple smartphone now comes in black, silver and …gold… flavours.
It should be available in UK stores on 20 September, with the UK (handset only) versions costing £549 for 16GB of storage, £629 for 32GB, and £709 for 64GB. It's 4G friendly…
You can read the full specs at www.apple.com/uk/iphone-5s/specs/
See also:

Previous Gadget Watch entries: