Gadget Watch: Apple Mac Pro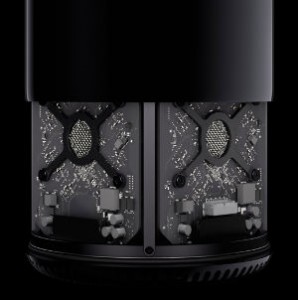 The release of new iPads – the iPad Air and new iPad mini – might have majored attention, but the Apple Mac Pro – which was also announced at the Apple launch last night – caught our eye.
I know we knew that the cylindrical desktop was coming, but check out the video below of Apple Mac Pro units being built. Interestingly, it is believed they will be built in the USA at Apple's Texas facilities.
Available in December, the 6-Core version runs on an Intel Xeon E5 with 12MB L3 cache and Turbo Boost up to 3.9GHz, with up to 30MB of L3 cache.
You can read more about the new-style computer and its UK pricing on PC Pro. Barry Collins writes:
It features a staggering assortment of high-speed interconnects, including six Thunderbolt 2 ports, four USB 3 ports, dual-Gigabit Ethernet and an HDMI socket.

The Mac Pro can handle up to three 4K displays simultaneously, according to Apple.
Okay, it's a promotional video. But it's a good promotional video! Nice to see high quality component manufacturing.
You can read the full specs of the machine »
If you want to see more modern technology manufacturing, don't forget our own video showing the assembly of the Raspberry Pi in Pencoed – How they make Raspberry Pi in the UK
Previous Gadget Watch entries: