Gadget Watch: Auranova Bluetooth necklace vibrates for incoming calls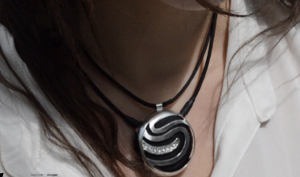 Some people argue Bluetooth is a technology in search of a solution – do you use it for any purpose other than hands free operation of a phone? – and I'm not sure what they would make of this: a Bluetooth necklace headset for Women.
The jewelery works with your phone, proving remote control for the fashion conscious, and providing a more discrete alternative to the usual Bluetooth earpiece.
Auranova "seamlessly integrates into your lifestyle, offering the perfect blend of fashion and technology" say its designers. The concept has raised $53,968 of funding (against its $15,000 goal) on the indiegogo crowdfunding website, with 20 days left at time of writing.
Arguably, of course, it is the same solution performed in a different way… we're still talking hands free operation of a phone.
It is described thus:
The design of Auranova is completely unique and allows all of its complexity to be disguised behind simplistic beauty. The device is composed of four pieces: the electronics cord, supporting cord, electronic base, interchangeable faceplate. These pieces seamlessly combine to make an individualized piece of jewelry.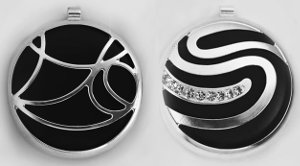 When receiving a call, the motor on the special cord will vibrate until you answer or reject the call. Also, if you are listening to music, when the associated earphone is removed an incoming call can be answered, and when the earphone is inserted then the call can be ended. You can multi-pair, connecting to two devices at the same time.
The tech spec:
Chip: CSR6145
Battery: 3.7V/45mAh Li-polymer battery
Charge time: About 1.5 hours
Talk Time: About 4 hours
Standby Time: About 100 hours.
Distance: 10M (30ft)
Bluetooth Software: CSR 3.0
Transmit Power: Class 2
Previous Gadget Watch entries: