Gadget Watch: Pressy, the configurable smartphone button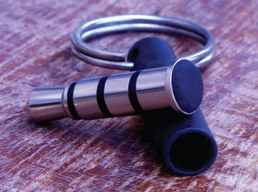 It's so good we had to blog it twice! Pressy, the configurable Android shortcut button was featured on Eyes on Android, but deserves a mention in Gadget Master…
For a gadget it has a novel vector of attack, re-using the headphone port for other purposes. See Listen out for Pressy, the multifunction Android controller
The creators give this example:
Touchscreens are amazing, but when you just want to turn on your flashlight, take a quick photo or send your location, simple actions can become a bit of a hassle.

Pressy Android buttonWithout Pressy, if you just want to turn your flashlight ON you need to:

Wake your screen -> Unlock it -> Exit your current running app -> Search for the app you want to use -> Launch it -> And finally, perform your desired Action.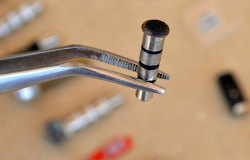 How Does it Work ?
"Once you launch the Pressy app, you activate a background service. The service monitors the headset-jack into which the Pressy Button is plugged. The application is then activated only when the Pressy Button is clicked, therefore, it does not drain your battery. The application recognizes the specific input and preforms the desired Action. The Pressy app works on all Android devices, versions 2.3 and up."
My first thought was – good idea, but limited: if you can only tie one function to a button click you are are a bit restricted. The proposed solution is ingenious, however. Think Morse Code – you can combine long and short presses to form various specific combinations. For example, two quick presses could be take a photograph, while two long presses could launch the radio, etc.
It's roaring away on Kickstarter, currently hitting $337,589 (which is already $170,000 more than when we wrote about it three days ago (not that the two events are related!)). It's target was $40,000. So this is certainly a gadget with crowd-funding appeal!
The proposed components are more numerous than may at first be obvious: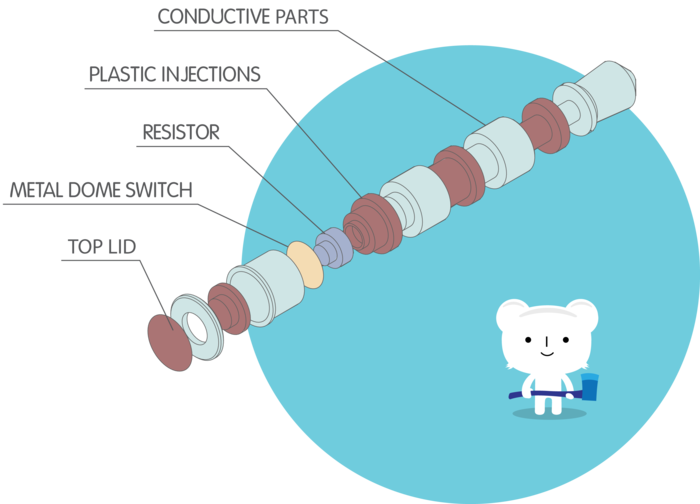 Previous Gadget Watch entries: