Featuring homemade electronic gadgets, the latest in development boards (Arduino, BeagleBoard, Raspberry Pi, etc), examples of cool design, and the latest and greatest (and most shiny) consumer gadgets.
3D printing goes mainstream with £500 Ormerod kit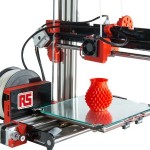 I must admit the omni-present enthusiasm for 3D printing passes me by. I understand it can be very useful, and that it represents a new advance for automation, but we are talking about plastic moulding. Essentially, enclosures on streroids!
That said, I must flag this one for Gadget Master attention, which sees 3D printers moving mainstream…
RS Components, writes Richard Wilson,  is offering a low cost 3D printer from Bristol-based supplier RepRapPro which can be used in conjunction with the free DesignSpark Mechanical 3D modelling software co-developed by RS and SpaceClaim.
The Ormerod 3D printing kit, which costs £500, uses the FFF (Fused Filament Fabrication) process to build 3D objects in a range of plastics and in a variety of colours.
"Ormerod is a monochrome 3D printer that has been configured to work with one type of plastic at a time, but three-colour deposition will soon be available with an upgrade kit."
All RepRapPro printers are capable of self-replicating their own plastic components. Hardware-only Ormerod kits, without the 3D printed parts, will be available soon for those wanting to use their Ormerod to make Ormerod printers for other people.

Tags:
3D printing
Related posts
2 Comments