In memoriam, Lev Sergeyevich Termen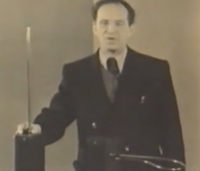 In memoriam, Lev Sergeyevich Termen, better known as Léon Theremin – the Soviet inventor that created the Theramin died on the 3rd November, in 1993.
One of the first electronic musical instruments, it involves two radio frequency oscillators and two metal antennas. The grounded, hand-waving performer uses the distance from one antenna to determine the frequency (pitch) of the audio signal, and the distance from the other to control the volume…
For me, it's always associated with Jimmy Page and the interlude in Whole Lotta Love, but we've written about the Theremin a couple of times on Gadget Master:
An ingenuous man, he apparently also invented the an espionage tool regarded as a precursor of RFID technology.
Image: Leon Theremin playing his own instrument