iPad gets telephoto lens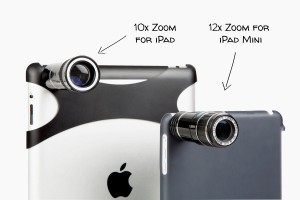 I often think I don't write about striking new gadgets enough in Gadget Master (!) and here's one to file under pure-play "Gadget" (no home build or customisation here). But I'm not quite sure what to think about it – it's a telephoto lens add-on for the Apple iPad. Potentially a good idea, but is this the right implementation?
It would only set you back $25 online dollars (? really) and is available from photojojo.com…
They write:
It's time to take your iPad photography one step, or 10 steps, further with the iPad telephoto lens. This lens adds 10-12 times telephoto power to your iPad. It gets you closer to your subject without having to depend on your iPad's digital zoom (a real pixel killer).

So hoist your iPad high, and snap away proudly. Your iPad may look a bit silly in this get-up, but you are going to end up with some seriously super photos!
Apparently, the iPad telephoto lens has a manual focusing ring, "to give you added control over its delightfully shallow depth of field" and other options are provided, including a "dreamy lo-fi look".
Hmmm. What's your verdict?

Tags:
Apple
Related Tech News
Why are we showing a close up of a button?…more »

This is a good one about Apple's voice controlled assistant, Siri. It's from our sister…more »

The jolly green giant Greenpeace has slammed Apple, stating that the electronics giant has manufactured…more »

One of the most hyped products in recent years, the Apple iPhone, is set to…more »
Share your knowledge - Leave a comment