The MagPi features the BrickPi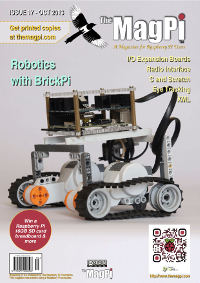 I'm a bit late in flagging the latest October issue of The MagPi, the excellent magazine devoted to the Raspberry Pi development board.
The cover feature is about the BrickPi, which helps turn the Pi into a robot, using LEGO Mindstorms sensors and motors to get motoring…
There's another article on using the Raspberry Pi camera module, creating a program to track eye movements, and more on the IO expander. And there's also a Scratch article showing you how to create a program to fire missiles!
It's edited by Ash Stone.
As always you can view an electronic page turning version with issuu and also view it in the PDF format.
You can view all the back issues, too »