Vote for the Google Impact Challenge
This one may be of interest, the Google Impact Challenge. The company is asking the public to vote for one of ten selected UK projects, all of which are being supported by Google Giving, it's charity division.
Voting closes 30th July, and the ten selected are:
Catch22 ("App to give young people the skills for work")
WeFarm ("Peer-to-peer communication service to help farmers improve their livelihoods")
St Giles Trust ("Online hub to support former offenders transitioning back to the community")
Virunga Foundation ("Crowdsourcing platform to help protect wildlife and communities in the DRC")
Royal National Institute of Blind People ("Smart glasses to improve life for people with sight loss")
We Are What We Do ("Digital games to help improve young people's mental health")
Centrepoint ("Data analytics to keep young people off the streets")
Carr Gomm ("App to empower people to manage their social care")
Relate ("Online platform to enable separating parents to resolve disputes")
Royal Botanic Gardens Kew ("Crowdsourcing data to help prevent mosquito-borne diseases")
Actually, there will be four winners, because as well as the public vote, a panel of judges will pick another three projects. All four will bank £500,000, and they will also receive support from Google.org.
Who are the judges? Jimmy Wales, Emma Freud, Peter Jones, Dragon and Entrepreneur, Jacquelline Fuller, Matt Brittin, and Helen Goulden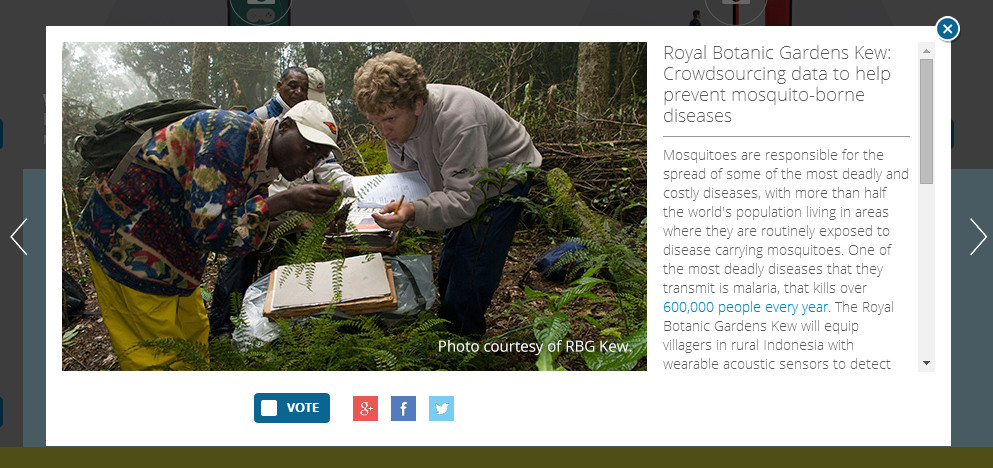 Tags:
Google
Related Tech News
Share your knowledge - Leave a comment