Featuring homemade electronic gadgets, the latest in development boards (Arduino, BeagleBoard, Raspberry Pi, etc), examples of cool design, and the latest and greatest (and most shiny) consumer gadgets.
How to build your own…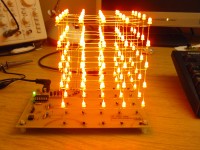 Welcome to the Build Your Own section of Gadget Master bringing together the many and varied posts that help you on the road to building your own electronics gadgets.
They vary in the level of the detail they provide, but the jewel in the crown is the guide showing you how to build your own LED cube. It's a good place to start with example code, videos, parts list and more!
LED
Music
Measurement
Computer
Phone
Sci-Fi
General
Share your knowledge - Leave a comment