Featuring homemade electronic gadgets, the latest in development boards (Arduino, BeagleBoard, Raspberry Pi, etc), examples of cool design, and the latest and greatest (and most shiny) consumer gadgets.
Nixie tube powered chess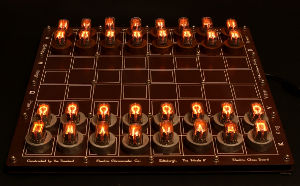 Nixie tubes always catch my eye – see here, here and here, for example – so how about this one? Nixie Tube Chess!
Rather than the usual clock dimension, these enthusiasts pursued a more cerebral challenge, using "real ex-Soviet" nixie tubes for the pieces.
To be honest, maybe Nixie Draughts would have been easier on the eye! There would be a bit of eye strain after a game constatly checking those light symbols…
Read more on lasermad.com, and you can buy the DIY chess kit set on ThinkGeek, to get soldering yourself. The price? $399.
They write:
Cold-cathode tubes were developed in the 1950s as a way for that time period to look more retro for those looking back on it from the future. And now that the present is their future, we can. YAY. Cold-cathode tubes, sometimes called Nixie Tubes, are no longer being made – but they are quite sought after by makers everywhere. And now we've collected 32 of them into this special DIY Nixie Tube Chess Set.

It requires a bit of work, but if you put your heart and solder into it, your DIY Nixie Tube Chess Set will be the pride of your game collection. And it's even better than just a chess set using specially marked nixie tubes as pieces – because the pieces light up through induction. That means all you have to do is set them on the chess board. We only have a few of these DIY Nixie Tube Chess Set, so if you want one, act fast. Because just as time keeps slipping into the future, these DIY Nixie Tube Chess Sets will also disappear (well, into the past).
You can read full instructions online »

Tags:
chess
,
Nixie Tube
Related posts
Arduino, LEDs and Nixie Tubes? What's not too like? The…more »

Which posts have proved the most popular in the month…more »

There may be many things you could do with a…more »