Robot makes, and is, art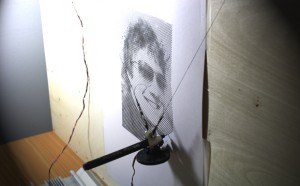 Engineers at Silicon Labs have built a lovely drawing robot from string and a couple of pulleys (and some other stuff).
Control comes through an ARM development kit from subsidiary Energy Micro, through some simple interface circuits.
Stepper motors pull the strings and a servo pulls the pen off the paper when it needs to be moved without drawing a line, and thick lines are drawn by zig-zagging the tip a tiny bit.
It looks like the inventors had to try several drawing techniques before they got one that made nice pictures – the blog will tell you about some of them, and describes everything you need to make a copy.
It is slow, and the makers cal this an benefit: "Part of the fun is watching a picture get drawn very slowly over the course of a day, or even a week! The Drawbot is not only an art drawing machine; it can be a part of the art itself, by being mounted on a wall", said they in the blog that describes the wonderful machine.
They credit NorwegianCreations for inspiration.